Heyyyy people!
How are ya?
Today, we're going to be review a book called I, Cosmo! It's a really beautiful book!
Ok then! Let's start!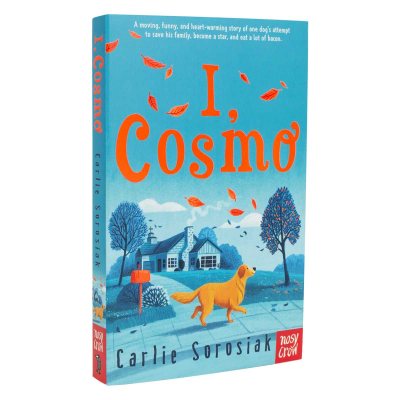 Title: I, Cosmo
Author: Carlie Sorosiak
Pages: 263
Synopsis:
Cosmo's family is falling apart.
And it's up to Cosmo to keep them together.
He knows exactly what to do.
There's only one problem.
Cosmo is a Golden Retriever.
Plot:
Wowwwww, I love this book!!! The plot is super original! Sure, it's a like any other typical dog story, but it's different from all the others at the same time! Basically, I, Cosmo is about Cosmo, a dog, who wants to keep his family together. So, when one day he has the chance to enter a music competition that could help Max and Emmaline's (his owners) parents stop divorcing, despite his age, he decides to try. Wow that was a complicated sentence-
'A golden retriever narrates a hilarious, heart-tugging tale of a dog and his humans as he tries to keep his family together while everything around them falls apart. Ever since Cosmo became a big brother to Max ten years ago, he's known what his job was: to protect his boy and make him happy.' – Amazon (I think Amazon did a better job of describing it but whatever.)
Characters:
I love all the characters, from Cosmo himself, Max, Emmaline, Mom, Dad, Uncle Reggie, and the sheepdog! One of the best things are Cosmo's comments! They're so funny, and, to be honest, very true! "Max's father, who's name is Dad…", "He [Max] can even unscrew the lids off peanut butter jars. I'd like to see a giraffe do that." and there's loads more! I love how Carlie Sorosiak just really emerses herself into her characters in this book! Also, the sheepdog has the sweetest character arc at the end! 😍
Rating:
I'm rating it five starsssssss! It's a really beautiful book, and I'm recommending it like crazy! 😍😍😍😍 ITS JUST SO GOOOOOOD EIFWGRERIGIJMFRIORIJ VOVJ EOJVO E IO EJEJ EROIER J
Not me just realising that I have 128+ followers- THANK YOU FOR EVERYTHING GUYSSSSSS
Aaaaaanyways, back to the book, READ IT PLEASE PLEASE IT'S SO BEAUTIFULLLLLLLLLLLLLLL 🥺👉👈 🌼
Ok guys, that's all for today! I'm sorry I couldn't make this review longer, it's my first time writing a book review, and, hey, I'm gonna cringe while reading this one day anyway, so I'm not gonna try to improve it. 😌 lazy Maya 🥱
See y'all soon! ❤
Edit: I just realised this is my 50th post!!! 😮